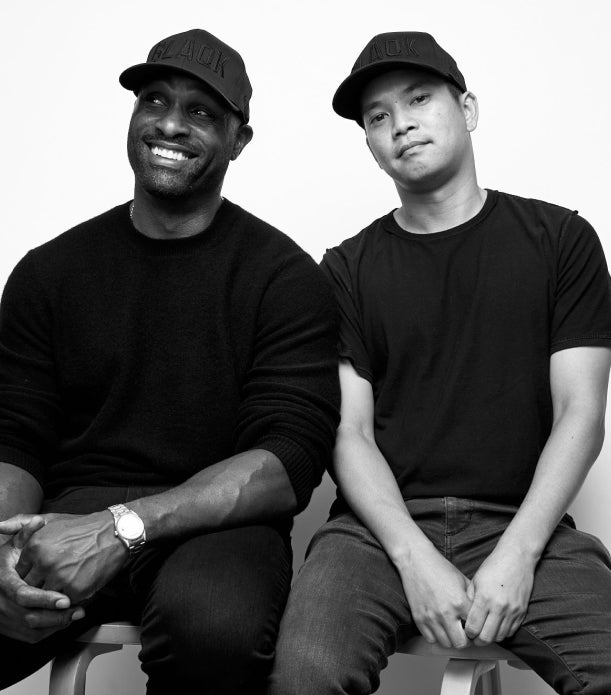 Hi, we're Justin & Ritchie.
We founded BLQK Coffee when we decided it was our turn to give back. We're just here to do our part. Our mission is to spread joy and inspire service through our coffee and a dedication to giving back.
We are dedicated to donating 25% of our profits to charity or directly investing in our communities.
The best way to support our mission to subscribe to one of our coffee subscriptions and spread the word to your fellow coffee lovers. We are grateful for your support.
Welcome. Read more below :)
Our Story
BLQK Coffee was born out of a desire to do good and feel
good at the same time. Founded using energy from the 2020 George Floyd protests, and all the other insanity of that year, we came to the conclusion "if not us, who? If not now, when? If not here, where?"
We wanted to do our fractional part to make the world a better place for our children and all future generations.
Initially, we contracted several marketing agencies to help
us craft a refined, "clean" message that we thought would help "connect with our target audience." We missed the mark.
 We failed at first, because sometimes you have to fail to
learn, and that failure is just an opportunity to learn and try again. After looking back on the first iteration of BLQK, we realized it failed because it was us - it wasn't authentic - it wasn't who were are. It wasn't fun. We decided to change it up and keep going because we still believe in this mission. Now we speak with our own voice, and its way more fun this way.
So, what are we all about? Well, our founder, former NFL
player & Rams Superbowl champ, Justin Watson, literally will not stop talking about spreading joy and living joyfully. "Never let anyone steal your joy" is his motto - like it's in his Instagram bio.
That's what we're all about here at BLQK. Being an active
member in your community, doing your best to help others, taking care of your
family (and for us, family is more than just our immediate families, although we pride ourselves on taking care of them nonetheless) and just generally doing our part to give back, while trying to live as fulfilling and joyful lives as possible ourselves.
We want to inspire a more joyful future for those who think they have none at all. We understand what that can feel like. We also we also know that life can and should be joy, at least some of the time. We knew to foster that joy we had to serve. That's it.
To put in more poetically, we defer to this quote.
"I slept and dreamt that life was joy. I awoke and saw
that life was service. I acted and behold, service was joy."
- Rabindranath Tagore
Never let anyone steal your joy :)
Our Coffee
The one thing that we know who got right the first time around is our coffee. We are coffee lovers ourselves, so we know a great cup of coffee when we have one. Our coffee is amazing. We could tell you all about the roasting process, the tasting notes and all that other stuff, which we still have on our product pages for those who are interested themselves, but all you really need to know is that you're never going to need to user creamer again - nor will you want to.
We believe so deeply in our coffee that we have a 30-day money-back guarantee. If you don't love it, email us at info@blqk.coffee, tell us about your experience, where you think we could do better, and we'll refund you the full cost of your order.
Only 1% of coffee worldwide meets our standards and we ethically and thoughtfully source our coffee. Our coffee is sourced from farmers and cooperatives that follow socially responsible and agriculturally sustainable practices. The quality of our coffee cannot be sustained unless the farmer is being properly financially rewarded. We pay premium prices to source premium coffee.
After sourcing and processing, we expertly roast it here in LA, so all you need to do is sit back, enjoy an amazing cup of coffee, and thank yourself for treating yourself to such a unique experience - great coffee, 25% of profits to charity and I get to help choose where that money goes? Unbeatable.
Want to say hi? We'd love to hear from you! Here's our Contact form.